Create a network of Sub-affiliates
Help others earn and earn yourself
Create your network and earn also from the players attracted by your sub-affiliates
See how
Sub-affiliates – referral program Melbet
Like all affiliate programs, you can earn money not only on the difference between losses and winnings of your players, but also on referring other affiliates to the program.
But in the case of Melbet, you don't just have the opportunity. You get detailed instructions on how to get Sub partners (sub affiliates). A real opportunity to earn thousands of dollars a month, in a community of successful entrepreneurs. No matter what country you are in, all you need is internet access. Become a MelAgent today and your income, class of car, size of house will only depend on you and time.
Find a potential partner, tell him/her the general principle of making money – how to earn a share of the bookmaker's profits;
Send him your special link for sub-affiliates, he will register;
Ask for the username he specified or the email. Send him Melbet's manager's contact to set it up;
Earn money from the players he attracts! (see screenshot 1.)
Where can I get my special link for sub-affiliates?
Ask your manager to make you such a link.
If you want to do it yourself:
Go to your account
Go to "Affiliate links" -> Choose "Campaign – sub_partner" as you see it in a screenshot
In a field "Landing page" insert: /home/registration
And click "Generate link"
Copy it and and send it to a potential sub-affiliate.

Where do I check the registered sub-affiliates I earn from?
You need to log in to your affiliate platform account,
Go to the last item called "Sub-affiliates". There you will see all your registered sub-affiliates.
Select the period you want to see how much you earned from them. Click on "Generate Report".
How do you know who is a potential partner? Who will bring in the most money?
Facebook groups, Telegram channels and sports betting sites are best suited as partners.
In which countries can I look for sub-affiliates?
In general, it does not matter so much what country the partner is from. What matters is which countries his players are from
Melbet is licensed in most countries or the international Curacao license is sufficient. There are also countries where Melbet is not licensed.
We would highly recommend to take a closer look at the countries mentioned below. Most of Melbet affiliates are from these countries and the brand itself is well established there.
India, Turkey, Bangladesh, Egypt, Iran, Thailand, Pakistan, South Korea, United Arab Emirates, Nigeria, Kenya, Uganda, Ghana, Morocco, Zambia, Angola, Burundi, Brasil, Chile, Colombia, Mexico, Malaysia, Philippines, Indonesia, Australia.
What is available to each partner? How does the partner get the money?
Each affiliate have:
– Personal promotional code;
– Personal link (you can track multiple sources);
– Demo player account – can be agreed;
– Support on any issue related to the affiliate program;
– Banners (with a personal promotional code);
– Payments every Tuesday for the previous week.
In addition, partner will receive a demo player account (it will be no different from the real account at all). You can check betting strategies, test our platform. to create content for your Telegram channel or fb/instagram/youtube etc.
—
Commission will be automatically transferred from his affiliate program account to his player account every Tuesday (and then he can withdraw this money through different methods (eg. Visa, crypto, e-wallets) depending on your country.
Also, it is worth mentioning that the minimum amount of withdrawals $30. If an Affiliate has not accrued this amount, the funds will be automatically carried over to the following week until the required amount has been accrued
How your income from sub affiliates is formed
You earn 3% of the all campaigns profits of all of your referred affiliates. For example, to earn your first $1000 in affiliate referral program, an affiliates campaign profit have to be $34,000.
This profit can be generated by one large affiliate (see screenshot 1.) as well as by many affiliates with small telegram channels/groups related to betting. The biggest income is generated by thematic websites.
You can start with tipsters you know, if they are not already collaborating with Melbet.
Just recommend them the Melbet Affiliate Program (your affiliate program manager will help you with the information how).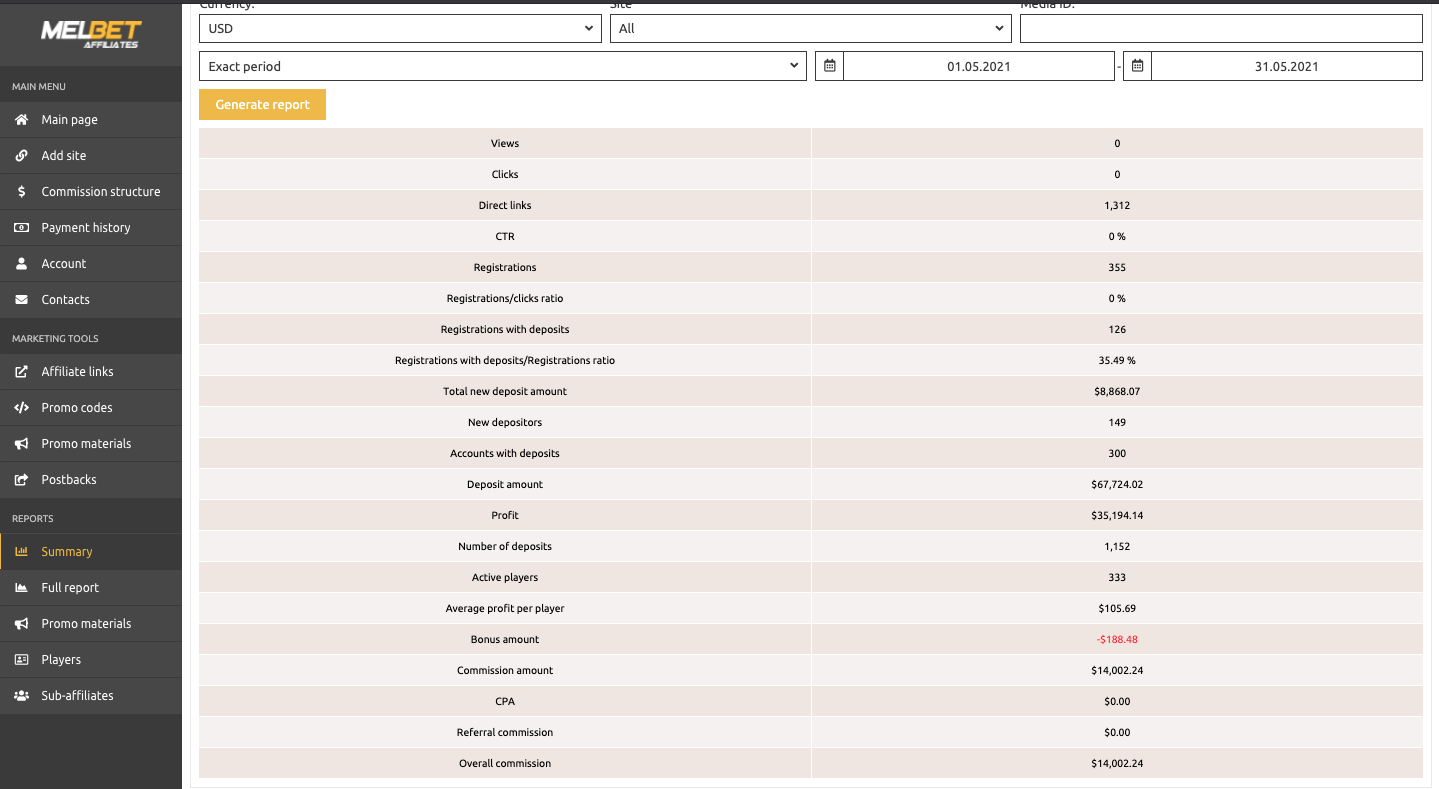 How much do MelAgents earn
With 10-50 partners, it is about $270-$300 per month.
How it counts: Let's take the average of 30 sub-affiliates you attracted in 1.5 months as a new MelAgent. Some of them will show 0-50$ profit, some will show 1500$, some will show 400$. Let's take an average of $300 monthly profit. These sub-affiliates will make a profit of 9000$, 2250$ will be taken by the sub-affiliates. 3% of that $9,000 will go to you. That's $270. This is how you will start.
Most affiliates (around 80%) continue to earn with Melbet, growing in profits. That means you can refer one time a single affiliate, and you will continually receive a percentage of his affiliate's campaign profits.
With 50-100 sub-partners – $600-700 per month.
With 500 sub-partners – $2500 – $3000.
It's not much (for example in Zurich, Switzerland, $3000-3500 – this is minimum money, which is enough only to pay the rent of an apartment. But it is good stable money for other countries. And every month there will be more if you try.
With this money you can renovate your house, save for a new car. Help your loved ones in need. When you are a MelAgent, time works for you.
In addition, you don't have to take care of your partner's work setup – that's the job responsibility of Melbet Affiliates managers.
Become a MelAgent today, set a goal – for example buy a Mercedes C-class for the new year. And start changing your life. There is enough money in the world. And Melbet will help you!
GET STARTED RIGHT NOW
The faster you start, the faster the result will be
Article written by: Damon Farou, affiliate program manager.
Telegram contact: @damon_melbet
Find this article helpful?
Share it to other tipsters and moneymakers:
Feel free to ask your question