Main menu sections of a personal account
Quick statistics, adding resources, account, commissions info… Let's take a closer look
1. Main menu of affiliate program
The main page displays graphs of statistics and results.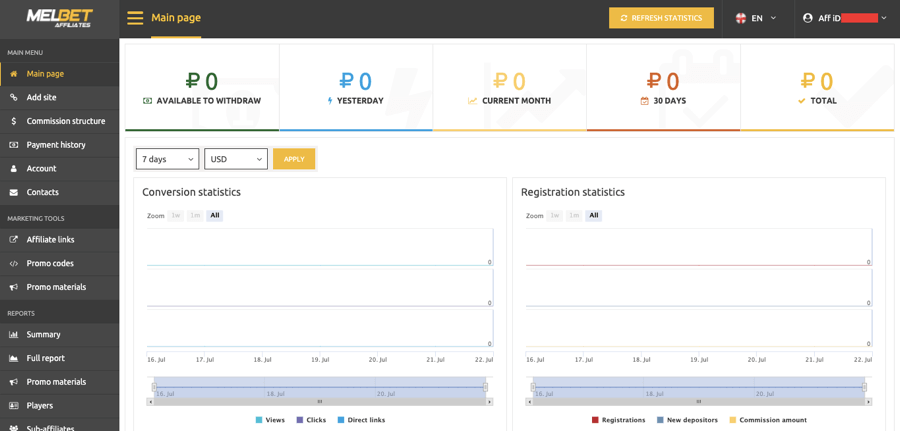 Top. At the top is your financial performance – namely your earnings. When the amount reaches 30 euros, it will appear in the "available for withdrawal" field. With the rest, I think it's clear.
Left graph. The lower left graph shows the number of clicks, banner views (if you take them from your account) and direct links (in fact, this is the number of clicks on your referral link).
Right graph. The bottom right graph shows the number of registrations, new accounts with deposits and earnings. The number of registrations and accounts with deposits is about different things. 100 players can register and 20 players can deposit.
Statistics. At the very bottom of the page, statistics are displayed in numbers (registrations, accounts, deposits, income and your commission – earnings). You need to select "current month"
However, this is brief "depthless" information. In the section Reports -> more detailed statistics (shows much more detailed and more accurate).
Is it clear from the main? Ok, let's go through the menu items!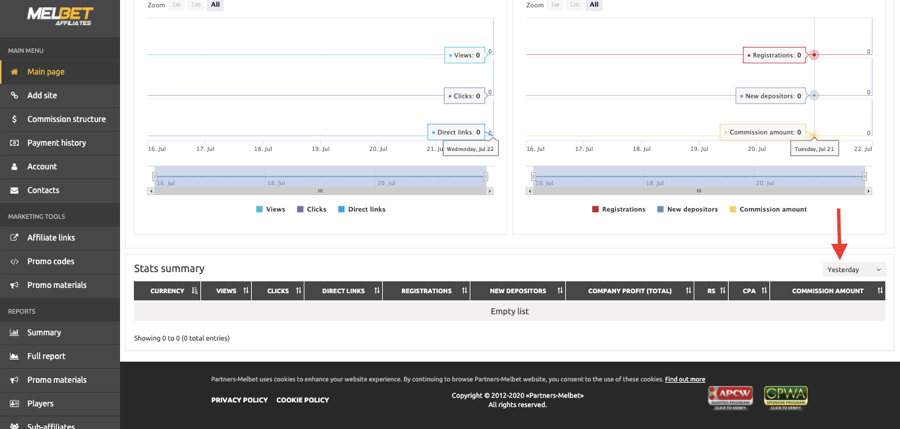 In the "Add site" section you can add more websites and groups if you have several. After that, you can make separate promotional codes and referral links for each site or group / channel. After that, you will have the opportunity to view statistics for each site. And deeper.
You can also add not a site to the field, but any value that will help you identify traffic (for example, the name of the country – geo, or the name of a website without a domain zone).

This page shows what commission is set for you. At the first stage, everyone gets 25% of the bookmaker's income (i.e., the players' losses). If you want more, please discuss it with your manager.

Shows the history of how many and when payments were made. Payments are made when your earnings reach at least 30 euros, on Tuesdays. In order to set up automatic payments, contact your manager. The settlement period is from Monday to Sunday. The payment for the previous week is made on Tuesday.

Everything here is simple and clear – your data. BUT! we strongly recommend installing 2 step auntification (Use Google Authenticator) in order to protect your account from any scammers. You are solely responsible for the data from your affiliate account.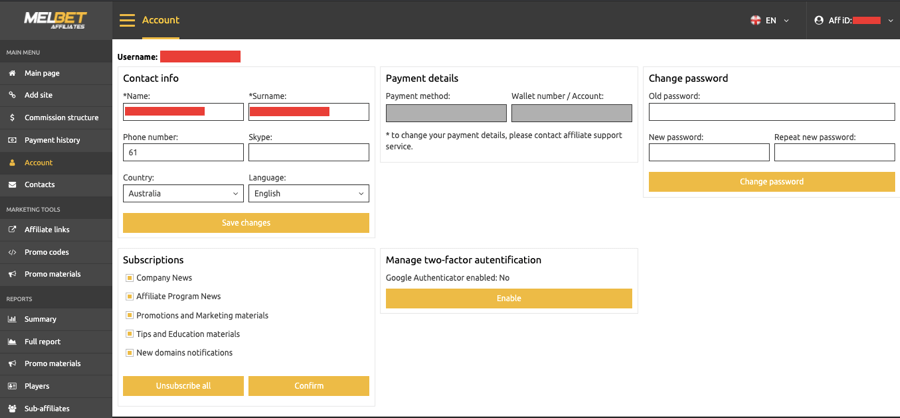 The page shows support contacts.

Articles about Melbet affiliates program
Feel free to ask your question