What to do after registration
How quickly and easily set up everything and start earning in the same day after registration
Full instructions after registration
As a Melbet partner, you will have:
Personal account, manager;
Personal promotional code;
Personal link (you can track multiple sources);
Banners (with a personal promotional code);
Demo player account – can be agreed;
Payments every Tuesday for the previous week;
Support on any issue related to the affiliate program.
One of the important differences between Melbet and other betting companies is the comprehensive support of a personal manager. Let's start with a person to help set things up.
1. The first step after registration: find your manager
Usually managers will contact you on their own. But if you registered on your own and you received a notification about successful moderation by mail, you should receive a welcome letter from the manager to the same mail.
Did not get the email? Check your spam folder. Most probably the letter is there.
If the manager has not contacted you, write to the support:
"Hello, I am a new partner, Aff ID 3***** (write your ID in the program). I cannot find a manager"
E-mail: 
Telegram: general manager 
Telegram: Asia Affiliate manager
Telegram: LatAm Affiliate manager 
Log in to your personal account.
In personal account – in the Affiliate links section – click on the "generate" button to create your own link
Copy the generated link and send to your manager to check if its correct.
If you want to make your link shorter you can do that through cutt.ly, bit.do or through other services.
This is a simple referral link with your tag. That's enough for a start.
Want to know more about links? Click here.
If you need a link that you can share on Facebook/Instagram, write to your manager
If you are from a country where access to Melbet's website is restricted, ask your manager for a link to the current mirror of a website.<.p>
Ask your manager to make you a unique personal promo code upon your request (for example HOTWIN, TIPSTER01 or something similar with English letters and numbers, up to 12 characters). Let manager know what promo code name you would like to check if it is available.
If a promo code is available, the manager will create it. The promo code appears here:

Banners for social media with your promo codeAsk your manager to make banners for Telegram, Whatsapp, Facebook, Twitter, Instagram and others. Banners can be made in any language, in any currency.
Some of the templates can be found in google docs:
Choose please 3-4 and send me numbers or screenshots. We will then customise the banners to include your promotional code.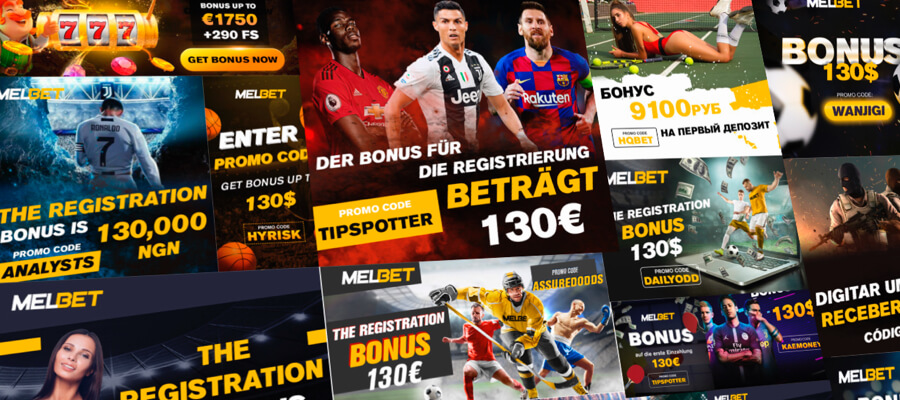 If you need marketing materials for the website, for email marketing campaigns, or other sizes – ask your manager.
New promotional materials for upcoming events can be found here:
In the section of promo materials you will find actual banners, animations for websites. In different languages, for different countries to advertise sports betting and casino. Different sizes.
Want to know more about promo materials? Click here.
A Demo account is available for some partners. This makes it possible to create content for a telegram channel, website, facebook group, youtube channel, instagram and twitter not for your own money, without any risk. Demo player account available only for active partner. Ask your manager for details.
1) Create a new player account. Account should be activated by phone. Send to your manager or support ID of this account. We will connect it to the affiliate program for payments.
2) Enable two-factor authentication. (link how to do it)
After that your commission will be automatically transferred from your affiliates program account to your player account every Tuesday for the previous week. And then you can withdraw this money through different methods (eg. Visa, crypto, e-wallets) depending on your country.
Minimum amount of withdrawals $30.
Alternative way: Neteller, Skrill or Bitcoins directly.
Want to know more about payments, withdrawal? Click here.
Articles about Melbet affiliates program
Feel free to ask your question